Case Studies
---
This page contains a number of case studies, arranged under the following headings – Business Finance, Supporting Borrowers, and Problems with Lenders. Some of the downloads are detailed case studies, whilst others contain several different case studies in a high-level summary format.
---
Case Studies – Arranging Business Finance
List of outline case studies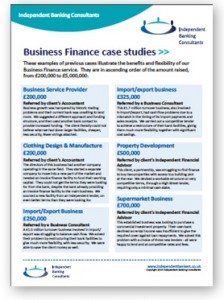 If you prefer not to read any detailed case studies, then try this high-level summary format instead. It contains some short examples of previous cases that illustrate the benefits and flexibility of our Business Finance service. The cases are in ascending order of the amount raised, from £200,000 to £5,000,000.
---
Lender agrees finance with no personal guarantees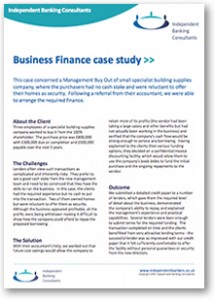 Three employees of a specialist building supplies company wanted to buy it from the outgoing owner. The potential purchasers had no cash stake and were reluctant to offer their homes as security. Following a referral from their accountant, we were able to arrange the required finance on their behalf. We submitted our own credit paper to the lender, on the strength of which it felt sufficiently comfortable to offer the facility without personal guarantees or security from the new directors.
---
Business rescued from bank's 'intensive care' section saves over £1 million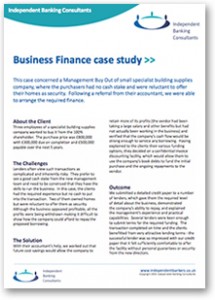 A fashion wholesale, design and manufacturing company with annual sales of circa £15 million had built premises for its own use using £8 million of development finance from the bank. Following a change of Lending Manager, the company found itself under the control of its bank's Intensive Care Team. IBC refinanced the business with another bank, saving them almost £1.2 million in interest charges and fees.
---
Bank changes its mind and client saves £74,000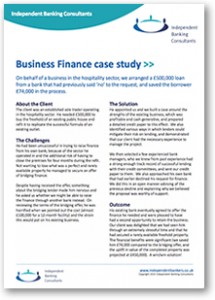 A business needed £500,000 to buy the freehold of a public house and refit it to replicate the successful formula of an existing outlet. They had been turned down by their existing bank and had already approached another lender but the terms were unfavourable. When it saw the credit paper we had prepared, the client's existing bank changed its mind and agreed to lend and saved them £74,000 in the process.
---
Business buys out a competitor and saves £25,000 in finance costs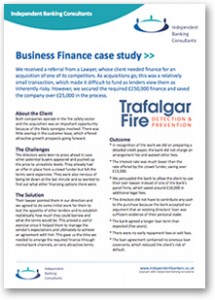 We received a referral from a Lawyer, whose client needed finance for an acquisition of one of its competitors. As acquisitions go, this was a relatively small transaction, which made it difficult to fund as lenders view such transactions as inherently risky. However, we secured the required £250,000 finance and saved the company over £25,000 in the process.
---
IBC saves farmer over £2million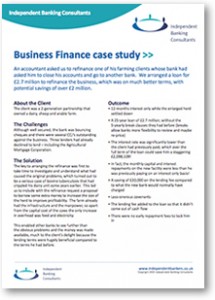 An accountant asked us to refinance a farmer whose bank wanted him to close his accounts and go to another bank. Although the bank was bouncing cheques, and despite the fact that three lenders had already declined to lend – including the Agricultural Mortgage Corporation – we arranged a loan for £2.7 million on much better terms.
---
IBC secures funding for planned build of over £800,000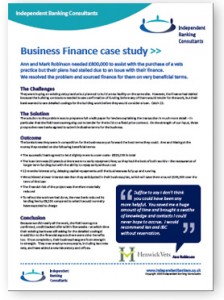 Ann and Mark Robinson needed £800,000 to assist with the purchase of a vets
practice but their plans had stalled due to an issue with their finance.
We resolved the problem and sourced finance for them on very beneficial terms.
---
Case Studies – Ongoing Support for Borrowers
List of outline case studies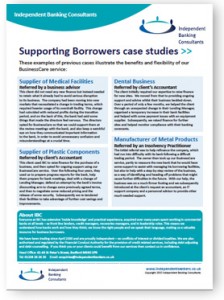 These high-level examples of some previous cases illustrate the benefits and flexibility of our BusinessCare service.
---
Case Studies – Resolving Problems with Lenders
Property investment business avoids £104,000 renewal fee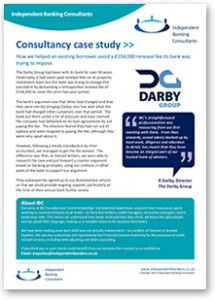 The Darby Group had been with its bank for over 30 years. Historically, it had never paid renewal fees on its property investment loans but the bank was trying to change this precedent by demanding a retrospective renewal fee of £104,000 to cover the prior two year period. Their accountant referred them to us and we liaised with the bank, who cancelled the fee.
---
List of outline case studies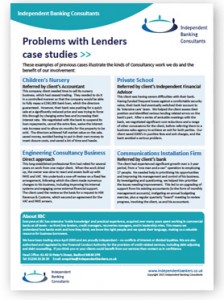 These high-level examples of some previous cases illustrate the kinds of work we do when assisting borrowers who are in difficulty with their lenders, and the benefits of our involvement.